A little over one year ago, my fiancée and I split for two months. I'd lost my way and she'd lost her faith. Miraculously, we found each other again. It was a tough but significant time in our lives, during which we learned a lot about ourselves and each other. And it's been tough since then too, of course it has, confronting and then burying the past, but we've done it. And we've become closer and stronger than ever. So, to celebrate our progress, we are to be married at 10am Eastern Standard Time on the 20th August 2007 at Sea Breeze Point in Walt Disney World, Orlando, Florida.
It will be an intimate wedding—ourselves and one guest, my future mother-in-law—which is what my partner and I both want. Rightly or wrongly, the events of the past have led to many people in both families feeling less than optimistic towards our relationship. Not everyone, however, has that view: some have been supportive of our decision to try again. What I have never wanted is a wedding where our guests wear fake smiles for the occasion's sake. This way, we have the wedding where, when, and how we want it.
And here it is. The Big Day. Highlights include:
- Before and after ceremony photographs by Randy Chapman, recently voted one of the top ten photographers in Central Florida.
- Cake: top layer - Almond and Amaretto Mousse; bottom layer – Chocolate and Peanut Butter Cup Mousse. Tasty!
- A thirteen-course dinner at Victoria and Albert's restaurant.
- And… a wedding night to remember for the bride (if I'm not exhausted from the
serious
food consumption!)
Then it's up at the crack of dawn (i.e., before the parks open) to don our wedding attire once more for the Magic Kingdom Bridal Shoot, which takes place directly in front of The Castle.
As for accommodations…
First off, seven nights at The Caribbean Beach Resort:
Then, another seven nights at The Grand Floridian Resort. Normally, a room here would set you back $600 a night per person, but Disney have been kind enough to provide us with a no-extra-cost upgrade/transfer from our original hotel, Animal Kingdom Lodge, due to construction work at the time of our intended stay. Credit where credit's due… this was down to my fiancée, who has spent literally hundreds of hours on Disney-related forums and got the warning about the construction before our travel agent!
Then it's three nights in a balcony room on the Disney Cruise Line,
The Wonder
, which will take us to The Bahamas and Disney's own private island, Castaway Cay.
We'll end our honeymoon with four nights at the Crowne Plaza Universal, which is a stone's throw (maybe a little further) from Universal Studios.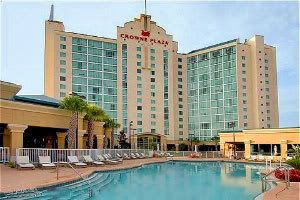 I'm glad I took the time to write this post. It's got me focused on the wedding again. Morgan, our pet Sheltie, has been seriously ill these last couple of weeks, and that has understandably diverted all our attention from the fast-approaching holiday. Morgan is now, hopefully, on the mend, and we can start looking forward once again to the wedding, honeymoon, and beyond...
Hope you are well.